Everyone asks me why I spend so much time analyzing spam emails that have been deleted by others. Instead, they feel that I can comfortably chase the 90s remake on Netflix.
After I published an email trend article last year, many people have been waiting for updates. In order to be worthy of those passionate friends, this year's email trends are attached here.
1
Email Trend #1: Use color to your heart's content
The era of boring fake text with white background is over, (except for the page you see now, where white can emphasize the content of the article.)
This world is what you have in your pocket, with more than 16 million hexadecimal color codes in your hands, how can you be willing to not use it!
Popular colors are soft home-style colors:
From left to right: The Hoxton, Offscreen Dispatch, MailChimp
Another popular color is gradient. Whether it is horizontal, vertical or diagonal, a good fade can make your design stunning.
From left to right: Hulu, On, Fig Tree
If you are fed up with just a few colors and want to mix a lot of colors into a large photo, it's pretty cool.
If you just want to show off, you can do this:
From left to right: Uber 2016, Uber 2017
In all the above examples, text, buttons, and images are in some cases edited above the background. Why do you want to do this instead of saving them all into the same image? Because only good people understandResponsive layout RWD.
2
Email Trend #2: Choose fonts boldly
Once you have mastered the color background, the next step is to master the color foreground, I mean text color.
Don't be afraid to tell the whole world, you can easily control all the colors and show the colorful side.
From left to right: Litmus, Facebook, DPDK
If you still can't accept the avant-garde design at once, you can use some beautiful font pairings. Usually the most popular is a few rows of small sans-serif fonts with thick serif fonts.
From left to right: David Kind, Conductor
Those who are at the top of the trend no longer use small fonts. The coolest thing now is the font size 18 or larger.
3
Email Trend #3: ⚡??
Emoticons from the world of text messages naturally slip into the world of e-mail. Although we have seen many email titles use emojis, they are slowly being added to the body.
From left to right: Gotcha.io, Of a Kind, Action Rocket
What should you do if there is an emoji that does not match your brand policy? If so, you can design your own icon, put in text or use it as a bullet. We saw similar cases last year.
From left to right: Blink XT, Fitbit
4
Email Trend #4: Playing Tetris
There are boxes everywhere, probably because Amazon is taking over the world, infiltrating our subconscious mind, and finally it may take all the food.
From left to right: Target, Helix, School of Life
As long as you have coded, the advantage of this kind of box layout is that it can scale freely according to the screen size in a responsive design, from 4 columns, 2 columns to 6 columns.
5
Email Trend #5: Make advertisements into GIF dynamic images
You may have spent a lot of money to make a movie. After all the hard work has produced it, pick out the best clips and make them into dynamic pictures! I'm pretty sure to see these GIFs repeating constantly, about twenty times.
From left to right: Nike, Readdle
If the video is too fast, the filing is to insert it so that the old customers of the e-mail link to the dedicated login page. Experts in Wistia, a cloud storage management video platform, have been experimenting recently and even provide comprehensive guidance on the timing of videos in emails.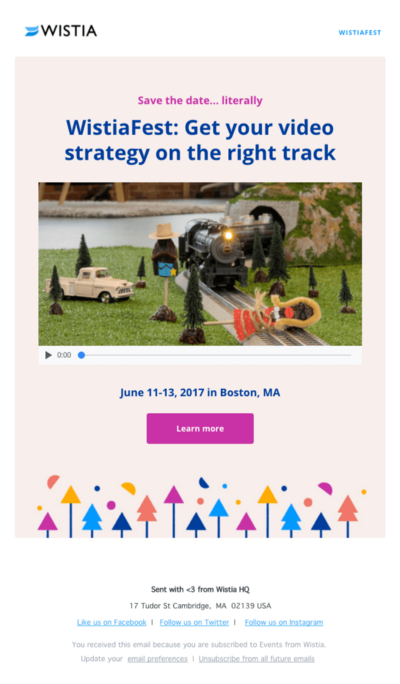 6
Email Trend #6: Let the buttons move!
In the era of more interactive e-mail (or with some attractive effects), you can make the buttons wiggle. This reminds people of the tears of the times-the paperclip brother (Microsoft Paper Clip), jumped out to ask if you need assistance.
7
Email Trend #7: Create a mysterious atmosphere for products
Have you seen the unboxing video? The internet celebrity took out the iPhone from a brand new package, just to show off that the picture on the front of the box is exactly the same as the contents inside. Give the audience some sense of mystery, and they didn't see the real body of this object until it was opened.
This trend is just like that, using the mystery and contradiction brought by light. Putting it in the dark, people only need to click on the email to open the curtain of mystery to see if it is a genuine product behind it.
8
Email Trend #8: Light up neon lights
Just like in the American film "Riverdale", the neon sign "open 24 hours" on the window of the American restaurant Pop's. Put the email content in the same way to let customers on the mailing list know that your product is "in business."
9
Email Trend #9: Transforming Instagram Image
Everyone is using Instagram (well, not everyone, probably one in seven people). When the idea comes, it is time to change the image. If the fan page itself has a lot of content or photos, your copy will have a good start.
10
Email Trend #10: Captions are stacked together and text is side by side (not vertical)
Elementary English class must have taught that the title is at the top of the story or chapter, and we have been trained to do this. But many rebellious children do not yield to tradition, break the rules, and put the title on the left side of the copy.
BONUS
Impressive quotes and quotes that fill the entire page
For those who cite customer reviews, recommendations from successful people, and celebrity language, this seems to be hot, and the font of famous sayings and sayings looks like the bigger the better?
From left to right: Mendo, MailChimp, Death to Stock Photos, Wildsam
How do you compare the 2016 E-mail design? Let's elaborate step by step:
No one will put Twitter content in promotional emails. However, it is often seen in the long-form content of e-mails that the content of e-mails is less like general announcements or posters, and is more inclined to blog posts.
The person sending the letter no longer cares so muchfeedback form. They will still care, but not like we saw in 2016, providing option buttons or attaching a link to the feedback form (see picture below). In addition,Net recommendation score (Net Promoter Score, NPS)There is an upward trend in emails.
" Professional tips "It's still popular on social media, but copywriters don't use it as frequently as we've seen before.
Impressive below the emailInstagram photos are gaining momentum. More and more brands are adding social photos to attract people to buy, track or instill a certain mood through photography.
"Z" patternIt is still very popular, but last year we saw that the square placement has almost disappeared, and now we will see more people using circles:
In the infographicLooking back at your past year, it is still very popular. Putting all your achievements on one page is great. If readers are concerned about how much ice cream your office is missing, you can also send them a letter.
Although Google's Pixel phones were better than expected, they only accounted for 2% of the market. Apple still has 83% market share, andiPhoneIt would be surprising if mobile phone-related applications, text messages or other messages disappeared from E-mail. Recently, people are indeed writing on this kind of half-cut mobile phone pictures:
It seems thatData calculationIt's outdated, but we still see it everywhere.
As i amE-mail trend #3Mentioned inEmoticonsMore fashionable than ever-especially when combined with the same line of text.
Not researching this yearCall-to-Action (CTA) button color. why? Because it took me too much time last year. But my instinct tells me that the effect has not changed much. Trust your instincts.
Use the electronic newsletter system to let you automate the transaction, reducing 3/1 time cost
Take care of old and new customers for you